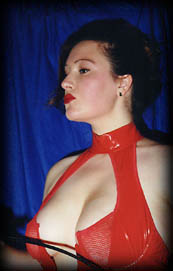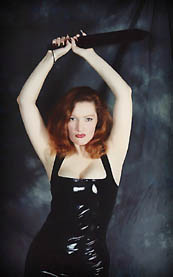 The right clothing can make a session unpredictably intense while creating a mental net of bondage that makes the items in question nearly as worthy of worship as the wearer.

-The Goddess Athena


It has been said that clothes can make the man or woman and in many cases clothes can be a pivotal factor in how a scene will play itself out. A tightly fitting leather bodysuit can inspire the Emma Peel in even a shy woman and unleash the Cat Woman in a more aggressive female. Our moods effect our choice of outer garments as much as our clothing can effectively alter our temperament. Like the old proverb says one should choose wisely when requesting a certain fetish inducing or personality mutating outer garment. For the woman who walks through the door may very well surprise you in a way that you have not fully predicted or nearly even guessed at.

Clothing is a very personal and erotic item. The smell of a leather dress or the shine of a well oiled rubber glove can illicit squirms of delight from those who can focus on their sensory capabilities. Whether you are enamored with knee socks and short skirts with cotton panties clinging underneath or a full Gestapo Nazi riding uniform the choice of costume from a ladies closet will shape your session like precious little else will. Bringing fantasy clothing to surprise the lady that you will be working with is always an encouraged option whether you are the one to wear the items or if they are brought for her to slip into. Since apparel is such an intimate item we encourage you to purchase items that are reasonable enough in value to gift to the special lady you will be bringing them to. More expensive items should be reserved for those who have found that special someone who completes their fantasy.